Every sponsor is unique. We believe every FSP solution should be too.
As customers look to consolidate outsourced clinical solutions, typical static FSP models no longer meet their increasingly complex scientific and operational needs. Syneos Health has developed FSP 360 to provide the broadest range of traditional and non-traditional capabilities through a unique and dynamic approach — customizing solutions to successfully meet the individual needs and goals of customers across their entire asset portfolio.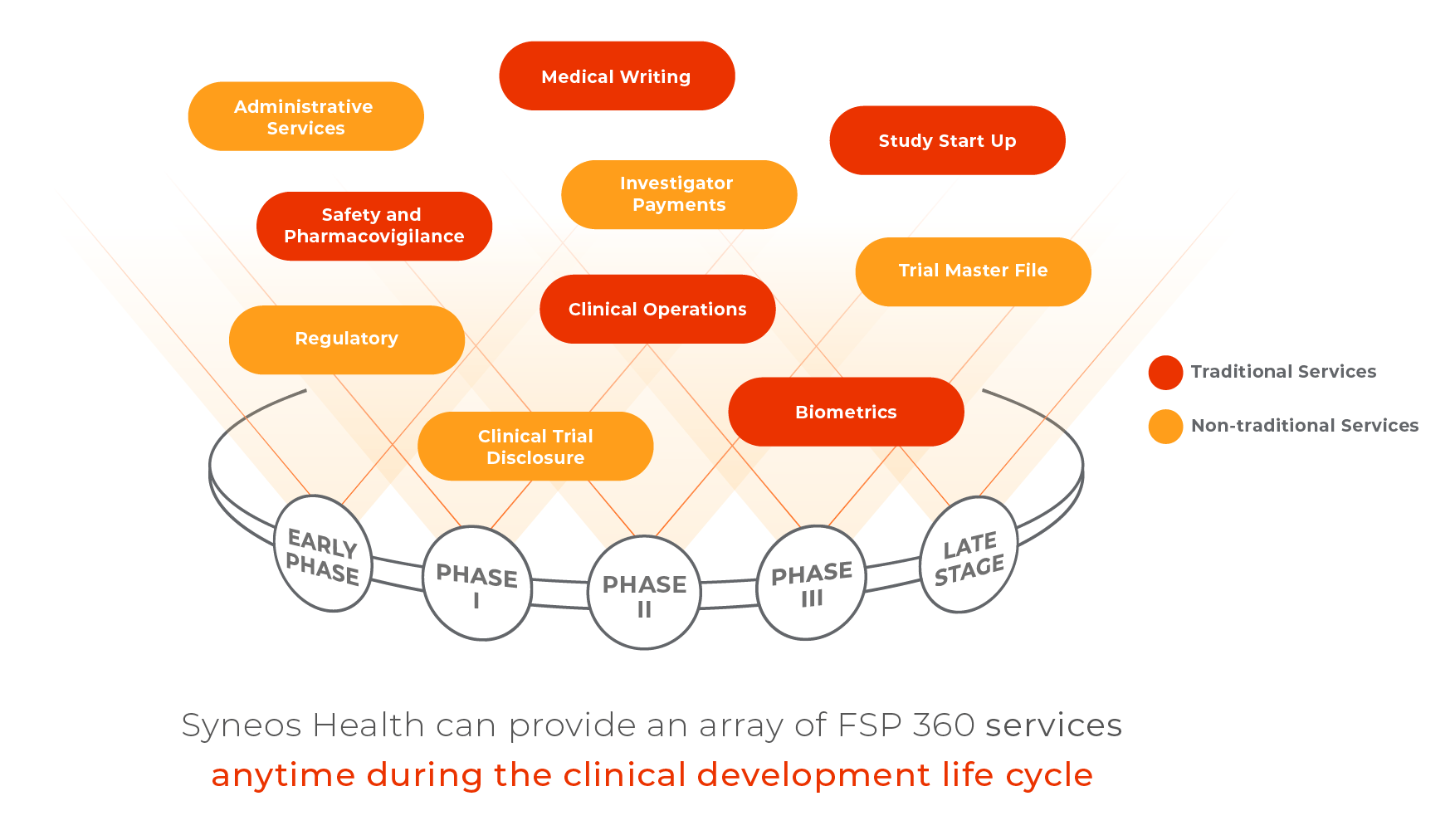 With our evolved model, engagements can be scaled based on where a customer is in their outsourcing evolution. Ranging from accessing functional excellence to quickly meet specific project-based needs, to a multifunction FSP providing a combination of capabilities across an entire portfolio, FSP 360 achieves speed, quality and efficiencies.
This model is a hybrid solution that stands alone or in combination with full-service outsourcing. When combined with Syneos Health's best-in-class Commercial Solutions, including consulting, regulatory and market access capabilities, we can further optimize customer outcomes.
This comprehensive clinical continuum delivers what today's customers need most — a clinical partner committed to strategic solutions designed to accelerate performance.
Unrivaled scale and experience – wherever you need it
Syneos Health has more than two decades of FSP experience and expertise. This foundation fuels innovation to deliver new models while realizing efficiencies — leveraging thousands of lessons learned.
Your goal is our goal
Our FSP 360 model is designed with our customer's trial as the single focus of delivery. We understand that patients are waiting for life-enabling and life-saving medicines.
We seed new FSP partnerships with a core team of experienced leaders who know how to set up a program, engage relevant stakeholders, define program expectations and build comprehensive governance as a foundation for excellence.
Operational Leaders within the FSP functions are experts in the latest technologies and business processes, available both internally and at our customer engagements.
We offer a global footprint built with the fundamental understanding that in-country leadership is a critical success factor to growing and supporting an FSP model.
Our dedicated global resourcing team recruits top talent. Our CRA Training Institute, employee engagement and step-ladder programs support our people as they grow in their careers.
FSP 360 is based on decades of experience and purpose-built to address today's and tomorrow's market realities.