Developing a single shared system, Risk Evaluation and Mitigation strategy (REMS) program or implementing any complex multi-sponsor program presents multiple challenges. How can competitors in the market place successfully collaborate to design, develop, implement and manage single shared programs that cover multiple assets?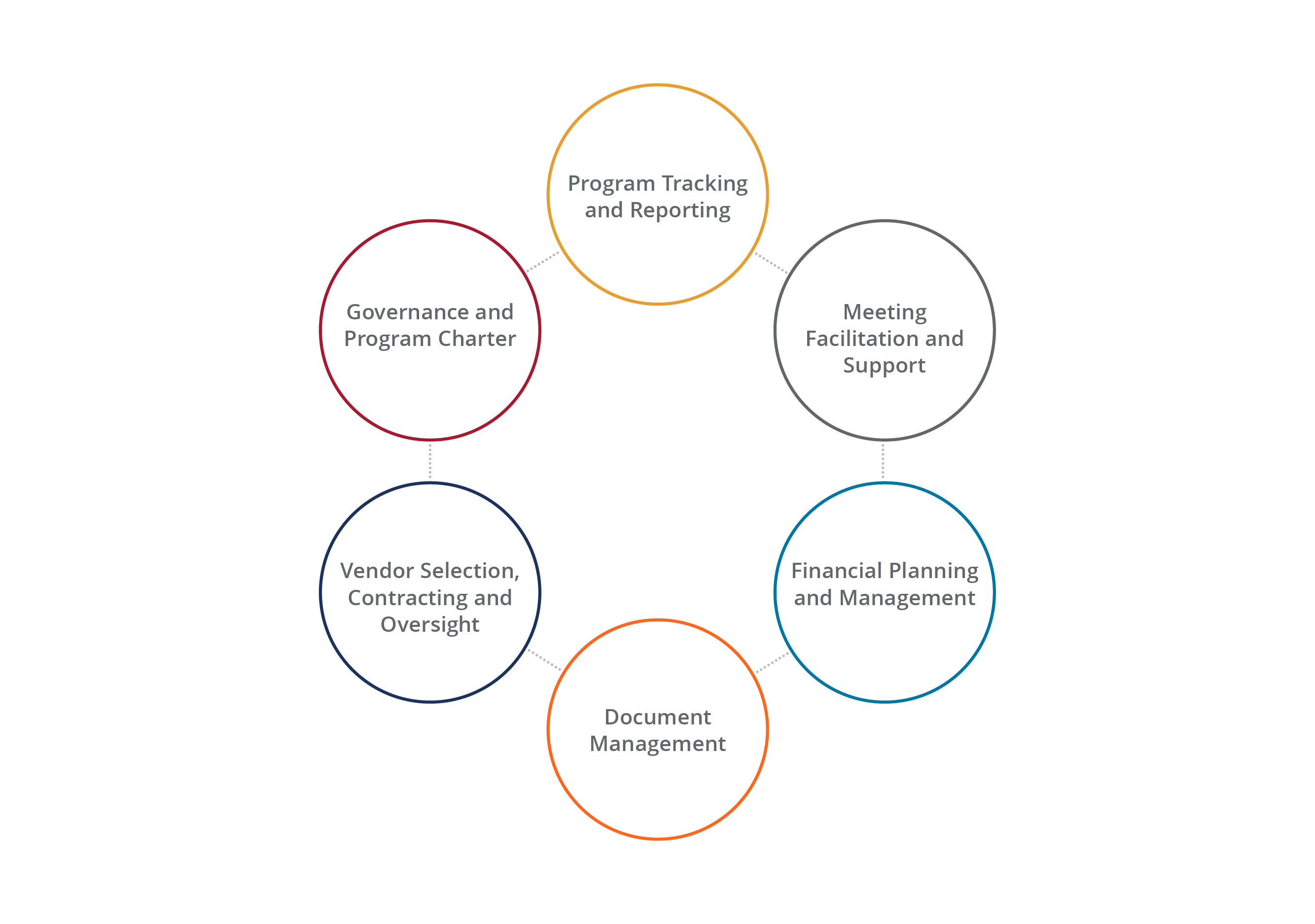 50%

of approved shared REMS programs are managed by our team

2

of the 5 approved share risk and mitigation strategies that we currently manage were previously managed by competitors and moved to us

2

shared REMS programs currently in development for approval by FDA have selected us as PMO

1

multi-sponsor post-marketing requirement
About REMS and Risk Management
We deploy high-caliber individuals who manage the daily tasks associated with aspects of multi-sponsor programs. We have developed a series of best-in-class tools, processes and methodologies to handle everything from program governance and sponsor management, meeting management, documentation management, vendor selection, identification and performance management and change management to budgeting and financial reporting.
Our mission is to take the strain off your teams. To this end, we bring the relevant information to sponsors in timely, digestible formats to enable effective decision-making and continued forward momentum. We have developed and refined a best-in-class framework for providing program management services to multi-sponsor engagements.
Our suite of methodologies, tools and processes includes the following six elements:
Governance Structure and Program Charter

: Given the complexity of having multiple sponsors and vendors working together, we establish a robust governance framework and charter that articulates teams/committees, roles and responsibilities, and voting/approval processes (e.g., approving deliverables, program budget) to systematize the process of managing the program, which is critical when competitors are working together.
Team and Meeting Facilitation/Support: We provide everything that you would expect from a PMO (Program Management Organization) in support of team/meeting facilitation (e.g., invitations, agendas, meeting presentation materials, meeting minutes, action item identification, and tracking). We stand out from the crowd due to the sheer level of input and the scale of the solutions/recommendations we offer. We bring realistic solutions, and our deep strategic thinking behind those suggestions, to the table, which makes decision-making easier and more efficient for the sponsor representatives, who are often spread across multiple programs of the same nature.
Vendor Selection, Contracting and Oversigh

t

: A PMO for these types of programs must have best-in-class processes to identify, onboard and manage vendors. We have deployed our processes for well over 100 engagements, and most importantly, we have done so successfully on seven multi-sponsor REMS/PMR programs with numerous vendors. We have standardized processes and tools to support the RFP process, and we have worked to develop pre-populated requirements documents for many of the REMS elements that would apply to shared REMS programs. This allows for a fast start once we are prepared to secure vendors. The following are a few highlights of our capabilities in this area:

Clear understanding of contracting requirements needed in multi-sponsor REMS

: We understand the needs for proper indemnifications and flow-down provisions for any PMO/sponsor agreement
Active management of vendors: Our job as the PMO with regards to vendor oversight is to ensure a high-quality program that is cost-effective. We continuously monitor performance of vendors against requirements, scope and service-level agreements. Potential issues are actively monitored and reported to the sponsors. Additionally, we monitor the needs of vendors from a scope perspective on an ongoing basis to ensure the services contracted for are appropriate and cost-effective to meet the needs of the program
Proven back-office systems to manage financial aspects of vendor management: We have systems/processes that have already been deployed on similar projects to: 1) manage the collection of invoices from vendors; 2) provide single, consolidated and customized invoices to sponsors based on agreed-upon allocations, and 3) provide on-time payments to vendors.

Program Tracking and Reporting: We deploy a comprehensive set of reports, status memos and dashboards to enable clear, frequent and transparent communication of project milestones (completed and upcoming), sub-team updates, vendor performance, actual budget to planned, and decisions made. We understand that our customers need timely and accurate information packaged in a format that is robust and easy to understand. At the beginning of the project, we will review the proposed program reports and can customize and update the format based on our assessment of program needs and sponsor feedback.
Financial Management: Shared REMS/other complex programs are typically expensive, and sponsors require a clear understanding of the financial aspects of a program. We are skilled and experienced at managing the overall finances of the program and we provide robust, monthly reporting to sponsors.
Document Management: Program and potential regulatory events require program materials to be well-organized, accessible and secure. We develop a customized system, utilizing folder structure best practices from our experience, to administer a secure document management system, managing folders and access rights on an ongoing basis.