Evolving to Become a Value-Based Strategic Leader
Over the past decade, the healthcare landscape has changed dramatically with an increased emphasis on engagement with a broader set of stakeholders and an expanded focus on value-based therapies. Most importantly, demonstrating real-world utility beyond regulatory approval has become the new hallmark of success.
Medical Affairs is uniquely positioned to address these dynamics as the only strategic function that touches a new therapy along the entire product development lifecycle.
Where is your organization on the road to Medical Affairs evolution, and how does it compare to the rest of the industry? Take our Medical Affairs Benchmarking Survey to find out.
This diagnostic tool assesses baseline perceptions related to eight key Medical Affairs organizational capabilities across six areas of medical value creation. Complete the assessment to receive a personalized evaluation of your organization's strengths and opportunities for improvement.
A third strategic pillar alongside R&D and Commercial
Syneos Health Medical Affairs provides life sciences companies with the depth and breadth of medical affairs expertise needed to optimize product development.
We deliver strategic insight, scientific expertise, organizational excellence and purposeful engagement via a full suite of offerings that support evidence-based strategies across the product lifecycle.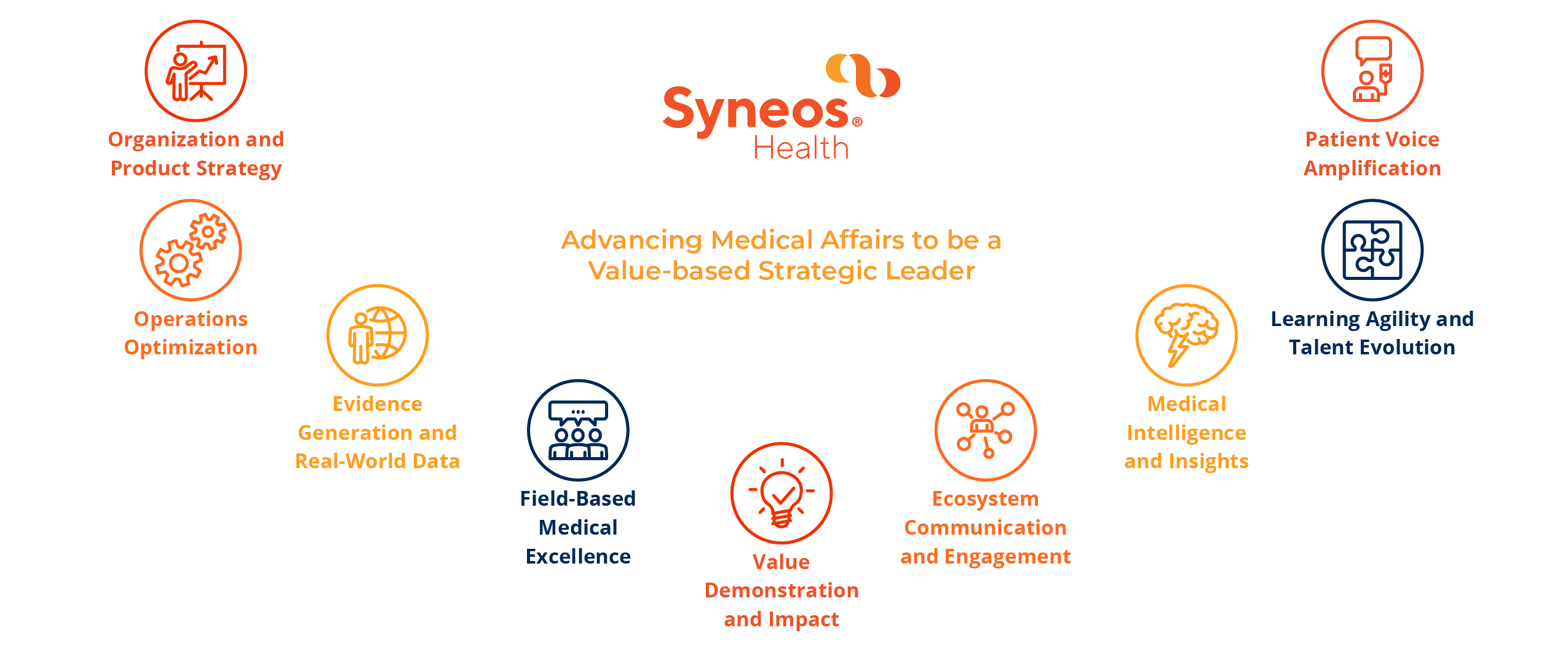 Innovative yet pragmatic solutions to real-life challenges facing your asset or organization
As you guide your innovation from the earliest phases of discovery through real-world clinical practice, we have the decades-long, hands-on experience to help navigate the complexities of today while laying the foundation for tomorrow:
Focus on the Future: We are focused on helping to drive where the industry is going, not stuck on where it has been. We believe strategic engagement by medical affairs leaders can optimize launch trajectories years in advance.
Practical and Connected Strategy & Execution: Our connected and multidisciplinary model results in long-term strategies that translate into the executable solutions needed to drive positive perception of clinical and patient value.
Fully Integrated Evidence Capabilities: Real world evidence (RWE) is fully integrated across our Medical Affairs offering as a critical tool for holistic evidence generation that highlights product value to key stakeholders, complementing our heritage in traditional clinical research.
Next-Generation Leadership Development: As medical affairs professionals engage with an increasingly diverse range of stakeholders and require new skills, we emphasize learning agility and business acumen to build high-performing leaders and teams.
Wherever you are in your Medical Affairs journey …
… We are uniquely capable of offering both standalone and integrated solutions that can lead to greater clinical and commercial success and improved patient outcomes – maximizing the potential of your asset, portfolio of products and your evolving organization.
Let's Connect