Syneos Health® Communications
We are at the heart of health
Syneos Health Communications is a portfolio of innovative health-first, health-only advertising, branding, medical communications, market access and public relations agencies. We are fiercely focused on creating platforms that allow our customers to bring life-changing healthcare solutions to the world.
We are an unrivaled community — powered by unique clinical, medical affairs and commercial insights from across Syneos Health — that operates at the intersection of health, technology, and creativity. By harnessing data and behavioral sciences, we get to deeper, more actionable insights that drive behavior change.
A healthcare communications company, not a holding company
We are a cohesion of best-in-class, award-winning agencies that support all your needs throughout the drug development continuum. Our first and only focus is on health.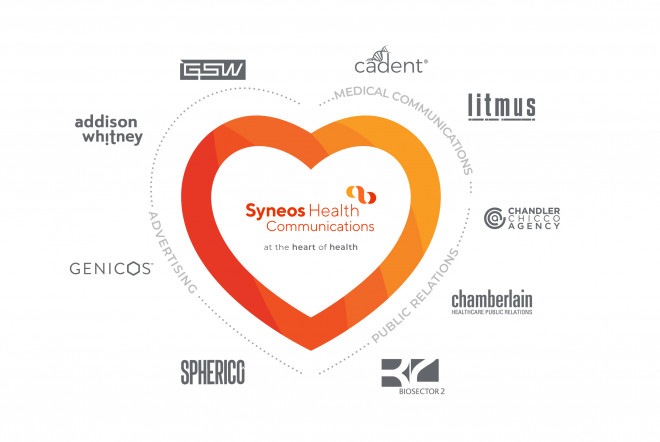 We work as scalable, collaborative teams that partner across disciplines and geographies to deliver integrated communications strategies
that accelerate healthcare brand performance.
Our frontline view offers the fresh, dynamic perspectives that all leaders need
With thought leadership from the heart of health, we not only see our clients' challenges and opportunities but also realize the future we imagine together.

As part of Syneos Health, we are engaged in every point of influence in health. That lets us know your market and your patient in ways that no other partner could.
Unleashing the Motivational Edge
Brands that have a motivational edge are able to resonate emotionally and nurture motivation. The result is stronger, more relevant content that gets disseminated across customer journey's for stronger business impact.
We wrote the book on healthcare behavior change: Why We Resist . At its core, we see every brand challenge as a behavior-change challenge. It comes down to finding and unlocking a tension, then activating the levers that will motivate sustained change.
Our AnswerSuite platform drives actionable insights for HCP's from our proprietary panel and our behavioral science lens illuminates the path to behavior change.
Our modern customer engagement capability, Kinetic™, combined with our CX Practice deploys advanced targeting, analytics and the latest technologies to make fully integrated omnichannel solutions accessible to healthcare organizations.
Scientific, so we understand the complexity. Creative, so we make it simple.
Our agency teams have received more than 1,000 awards for work that rises above the noise, but our real reward is knowing how that work has changed lives.
For more information, visit our site.
Explore our Communications capabilities