The field of rare disease clinical development and commercialization presents very specific challenges. Innovative solutions are required to enable rapid access to treatment options for patients living with a rare disease. In developing a strategy, multiple stakeholders must be taken into consideration, including patients, advocacy groups, key opinion leaders, payers and regulators.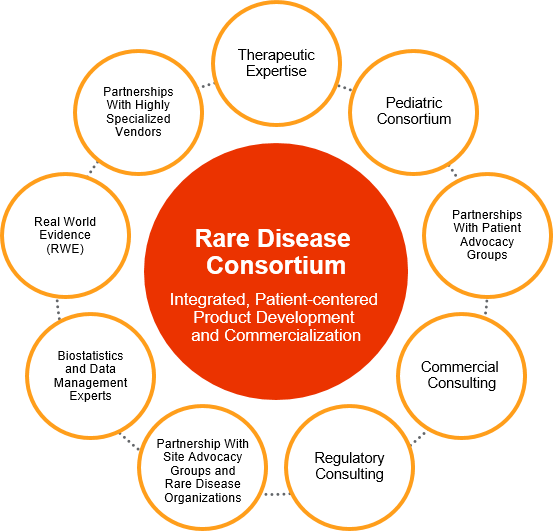 In The Past Five Years, We Have Conducted:
>350 projects in rare disease indications
including:
>over 30 real world evidence projects including registries, non-interventional studies and expanded access programs
~25% of our rare disease research experience is in the pediatric population, including first in patient studies in ultra-rare indications
~20 projects with ATMPs (Advanced Therapy Medicinal Products)
Specific regulatory strategies for rare disease clinical development need to take into account future post marketing and commercialization requirements. Supported by our enhanced capabilities, we successfully integrate these needs and develop and implement effective, valuable solutions for our customers that shorten the distance from lab to life.
To leverage our deep experience in rare disease clinical development and post marketing requirements, we have organized a multifunctional team of experts, including those in the field of advanced therapy medicinal products, to create our Rare Diseases Consortium.
Through this rare disease clinical research network and our commercial expertise, we work to integrate best practices, processes and experience to develop a tailored strategy for each project, specific to the particular rare disease, patient population and protocol or program.
We understand the complexity and urgency of developing treatment for rare diseases and achieving the best return on investment after many years of clinical research. The foundation of our Rare Disease Consortium includes:
Therapeutic Expertise – physicians and scientists with extensive experience in specific rare disease indications
Pediatric Consortium – a cross-functional group of experts in pediatrics including pediatricians, operational experts in pediatric trials, and therapeutic experts who have overseen numerous pediatric trials and understand the unique challenges they present
Regulatory Consulting – regulatory strategists who can create optimal regulatory pathways to obtain support through the entire clinical development plan
Commercial Consulting – commercial experts on market access and reimbursement, pricing, commercial strategy and launch planning who can develop high value solutions to ensure patient access and reimbursement
Patient Advocacy Groups – strong relationships with these groups who engage with patients and their networks on the availability of clinical studies, the value of clinical research and clinical trials as a care option
Site Advocacy Groups – close ties with specialized investigational sites helps determine and implement the best infrastructure to facilitate patient access
Specialized Vendors – contracts with vetted vendors that support tailored rare disease strategy logistics: site and home nurse support, patient reported outcomes (PROs), and logistical support for patient travel
Real World Evidence – a team of health economists and real world data experts, who develop integrated medical evidence collection strategies, ensuring valuable and actionable data are collected to define value and support continued use
Biostatistics and Data Management Experts – providing sound statistical guidance and input at every stage of your product's development
Additional levels of expertise to support the highly complex trials solutions required of pediatric, rare disease, biosimilar and cell & gene therapy clinical trials: